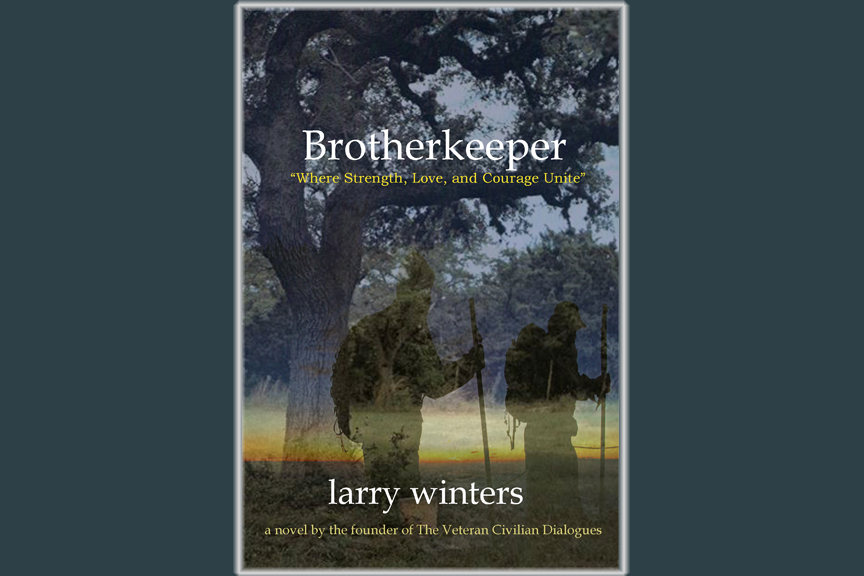 Forging friendships, facing suicide, testing the boundaries of love, and taking strong medicine in order to confront the past and discover their future, they travel juxtaposed in time, hidden in the jungles of Nam, the deserts of Afghanistan and Iraq surrounded by Americana as they travel down the streets of a small U.S. town arriving on a Native American Reservation in Arizona.  Could it be where warriors of all kinds are always welcomed home?
Brotherkeeper, a compelling fictional novel about three military families, invites the reader to the battlegrounds and dinner tables of our returning veterans to explore their anguish and triumphs as they navigate re-entry into civilian life.
Jake is a marine, a man of honor, who served as a sniper in the Vietnam War, a legacy he carries with him on his chest, full of medals, and in the nightmares he calls dreams.  Naomi, his wife, has made Jake promise not to let the Viet Cong enter their home, and for many years, he has lovingly obeyed.   Now, something changes.  A subtle shift in the weight of the world in response to graphic emails of terrorists killing marines and watching his students go to war, something clicks in the self-imposed cage that he and his wife have carefully built to keep war at bay. With many of his brothers dying in Afghanistan and Iraq, can he truly ever come home?
Pax, determined to follow in his father's footsteps and to prove his mom wrong, calls Jake not because he wants to, but a promise is a promise.  Jake picking up the receiver, did not know the events that were about to unfold he just knew that Pax deserved the stone cold truth and he won't be getting it from no dammed recruiter.  In love and war there is a price to pay for everything. Naomi, the unseen warrior behind the lines, knows that cost, and this time she refuses to watch the ravages of war strip the normalcy from their lives.  This time she takes action.
READ WHAT PEOPLE ARE SAYING ABOUT BROTHERKEEPER!
"Am I my brother's keeper?" Cain asks of God as Abel's blood cries out from the earth. In Larry Winters'  gripping novel, "Brotherkeeper," one man, bearing his own burden of war-pain, chooses to face that question and all it demands.
Peter Pitzele Ph.D author of Our Fathers' Wells, a Personal Encounter with the Myths of Genesis.
As a Vietnam veteran, psychotherapist, and author of the unforgettable The Making and Un-making of a Marine, Larry Winters is the only writer I know who has the tools necessary to tell the complicated truth about the struggles faced by the warriors in our midst. With the soul of a poet, this Peace Eagle carries us into a realm of moral dislocation in Brotherkeeper that no one–no one–has ever entered with such clarity and force.
Steven Lewis, Fear and Loathing of Boca Raton